Change Strategy

There are two primary goals that the DCC change management strategy is designed to accomplish:
1- Preparing individuals for the Future State:
Preparing staff for the challenges and opportunities that come with working in a more open, dense and activity based working environment is paramount to the success of the DCC.  Changes in the way that people work, who they occupy space with, and the location of the building need to be taken into account when staff occupy the new building.
2 - Inclusive problem solving:
The second goal of the change strategy is to provide opportunities for the occupants of the new building to provide input, guidance and expertise in finding the solutions to the challenges that will arise in the new, future state. High levels of communication, engagement and participation in work groups will be encouraged through-out the change process.
---
The Strategy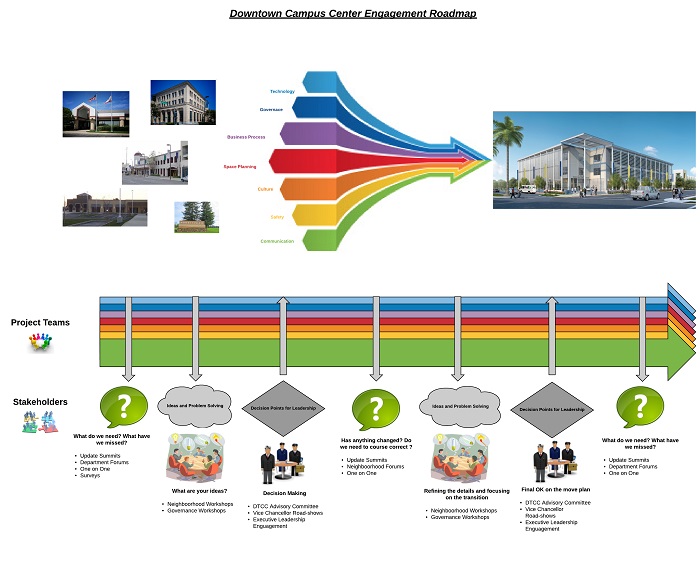 A detailed assessments of the challenges that lie ahead for the Downtown Campus Center was conducted by  Business and Financial Strategic Initiatives (BFSI), Cannon Designs and Deloitte Consulting. Through focus groups, workshops and individual interviews with stakeholders, departments and unit heads, a set of eleven (11) sub-project work-streams have been developed to address the many "human" challenges to the project. 
These work-streams, as well as engagement and culture building strategies have been developed around the model of working directly with the departments and individuals that will make up the "neighborhoods" in the DCC.  Governance, communication, and continuous change assessment are the primary vehicles that will drive the sub-project efforts as well as provide opportunities for communication, engagement and participation by staff through-out the transition to the DCC.
The sub-project work-streams, neighborhood model, governance, communication and assessment make up the core of the change roadmap for the DTCC.