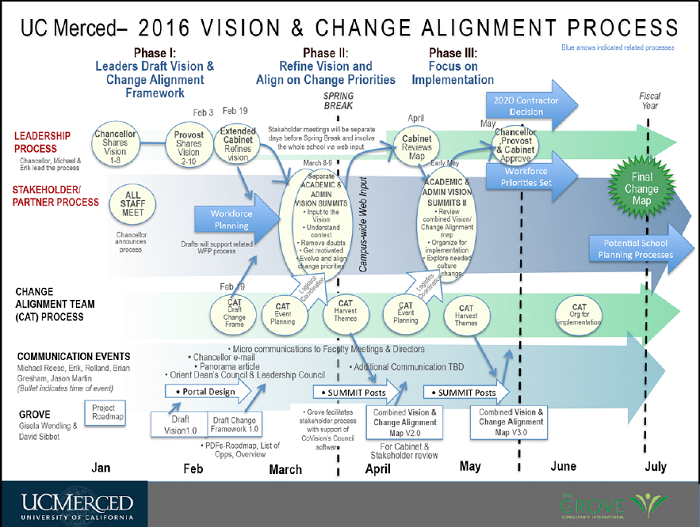 Change is a process, not an event 
Change is a process that is continuously evolving.  The schematic above represents the process being used to guide development of UC Merced's vision and change alignment. 
In order to address the issues that come with the major changes of the 2020 Project, The Change Alignment Team (CAT) was created to resolve the issues at hand. Comprised of campus representatives from various departments, CAT works collaboratively to enhance, bind, and help further all campus change initiatives. 
The 2020 Visioning and Change Alignment Process is a campuswide initiative that will help shape UC Merced's future 
Chancellor Dorothy Leland and members of her leadership team will be intimately involved with the process and supported by the CAT, which includes some cabinet members. Campus leaders believe that in order for UC Merced to successfully adapt to these changes, a clear, memorable, campus-wide vision that describes what it will be like to teach, learn, and work at UC Merced in 2020 is required. 
The yellow circles represent key meetings that will engage leadership and other stakeholders in the process. 
The rectangles at the bottom represent versions of the vision and change alignment map that is being used to get agreements.
The blue arrows illustrate related processes that will be informed by the vision and change alignment dialog.